Toyota 4D KeyTool - Master Key Generator (UNLIMITED TOKENS & NO DONGLE NEEDED!!!)*
Demonstration Video (youtube):
https://www.youtube.com/watch?v=Ilm1hOFAcr0
for
Immobilizer Reset
,
Smart Code Reset
,
Key programming (incl. Master Key)
, supports
ALL
Lexus, Scion, Toyota Pass-Code by Seed Number Calculator
CLICK HERE
In cases where all car keys are lost (no transponder key) - Create a Master Key:
Read the immo EEPROM inside the immobilizer box (Transponder ID ECU). Upload the dump to this page/service and press the "Generate (crypto) keys" button.
Use a transponder tool such as: Tango, ZedBull, etc. to write the transponder data to TPX2 or EH (electronic 4D emulator).
Immobilizer Module (immobox/ECU) Location:
Avensis: In the middle of the dash (deep towards the windscreen).
Aygo: Behind dashboard.
Corolla: Mounted behind the passenger side glove box.
Hillux: Behind the noise insulation coat.
Yaris: Upper centre of instrument panel.
RAV4: Lower instrument panel.
Fix for "wrong transponder" or "transponder ID is not registered":
Generate a new transponder from immobilizer dump.

Fix for DTC B2799 "immobilizer fault":
Syncronize ECU (see bellow).
ECU synchronization (ECU Replacement):
Step 1: Turn the ignition ON (DON'T start the engine) using a registered master key.
Step 2: Make a short-circut between pin/terminal 4 (CG) and pin/terminal 13 (TC) of the DLC3 using a paperclip, electrical wire or SST diagnosis checkwire.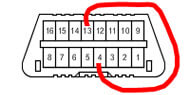 Step 3:
Wait 30 minutes...
Step 4:
Turn ignition OFF and remove the short-cut wire from DLC3.
Step 5:
Turn the ignition ON (START THE ENGINE).
DISCLAIMER: This service is supplied only for not moving cars. We will not be responsable for any direct and indirect damages from the use of the file created by this service/page.
*Rules:
- Don't share your account information
- Don't flood the server with heavy requests
- Don't provide PIN / KEY codes to third-party (forums/internet/etc..)
or else your account get locked and NO REFUND!