New FDOK/VEDOC Encrypted Random Number + MR Download +
Special Functions Calculator 1.3 (UNLIMITED TOKENS & NO DONGLE NEEDED!!!)* **
NO HWID LOCK (NO PC LOCK)! YOU CAN RUN IT ON YOUR MULTIPLE SYSTEMS!
BEST
FDOK / MR1 CALCULATOR!
FAST CALCULATION!
Get your code within seconds.
Eight (8) Reasons to buy/purchase:
#1 Cheapest, just €175!
SAVE MONEY.
#2 No token limited!
UNLIMITED CALCULATIONS
#3 Easy-to-Use!
1). Just run the software , 2). Enter information , 3) Press "Calculate" button
#4 No HWID Lock!
#5 No Dongle Required!
#6 No Shipping (costs)
, JUST A DOWNLOAD LINK (small size)! SAVE TIME AND MONEY!
#7 Also works for DAS 2013.01 and newer!
#8 Future updates are FREE OF CHARGE!
Demonstration Video (youtube):
https://www.youtube.com/watch?v=XCMWzfCd8Ak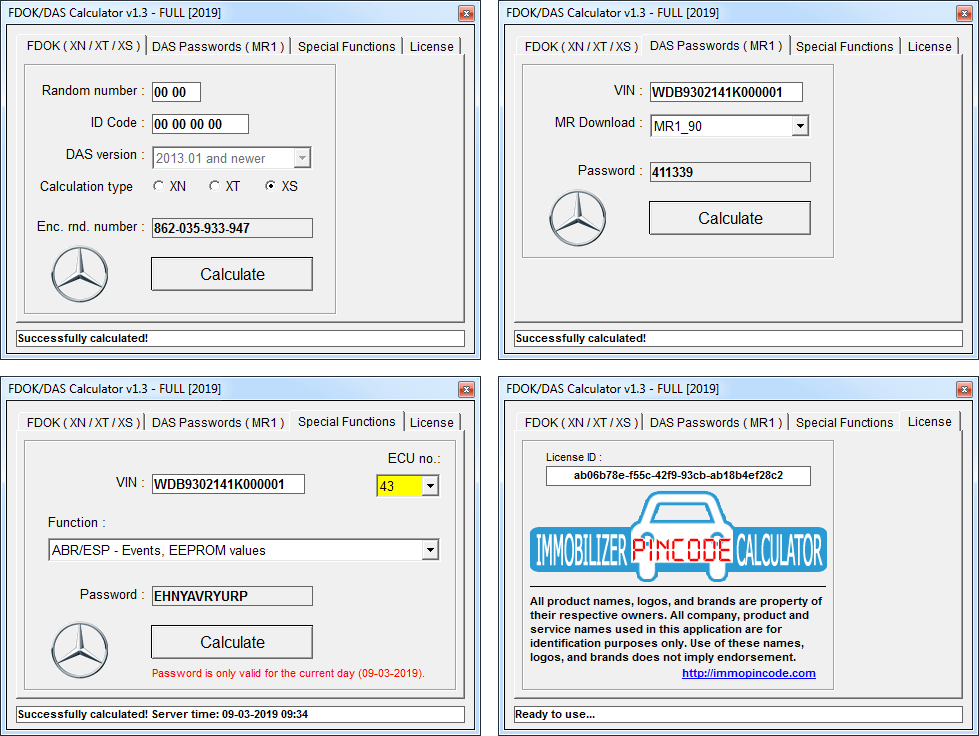 Supports versions:
DAS 2012.11 and earlier versions (old)
DAS 2013.01 and newer versions (2014-2019)

Supported FDOK Calculation Types:
XS: Changing of NOx Torque Limit (EURO6)
XT: Changing of NOx Torque Limit (EURO4+5)
XN: Erasing of emissions-relevant fault codes in Actuations of SCR exhaust aftertreatment system

Supported DAS (MR Download) passwords Calculation Types:
MR Download: MR1_90
MR Download: MR1_96

Supported Special Functions ***:
ABR/ESP - Events, EEPROM values
ABR/ESP - VIN manual writing
ABR/ESP - VIN resetting
ACM - Regeneration speed threshold DPF
ASSYST PLUS - Re-arrange service memory
AWF/SG-AWF - Object recognition
Air conditioning/ACC - Special settings
Airbag/SRS - EDR
Airbag/SRS - Roadside Assistance Vehicle
Airbag/SRS - Special settings
Airbag/SRS - System information
Airbag/SRS Transporter - Security components deactivation
BMS - Close training via diagnostics
CDI2 - Adjustment of EGR
CDI4 - Adjustment of ERG
CLCS - Manual calibration of level sensors on customer request
COM - GSM-Antenna resistance
CRCM207 - CRCM Topcontrol
CTT-ECUs - CTT Special parametrization
Codings for Citan
ECallRus - VIN writing
EZS - Teach-in of new car keys 451/454
EZS - Temperature correction
EZS/FBS4 - Offline locking of key or key track
Edison - Programming
Engine - Fault memory
Engine - Regeneration DPF, flashing
FDOK - Blocked vehicles
FDOK - Unlock documentation
GS Special parametrization
GS2 - Programming
Immobilizer code model range 415, 453
KI/IC - 120kmh warning deactivation for Gulf countries
KI/IC - Adaptation maintenance interval
KI/IC - Belt warning
KI/IC - Reset to the global encodings
KI/IS - Deactivating of the mirros functions
MBConnect - Deactivation
MCM - EOL valves
Manoeuvring - Special calibration and other special measures
MoTelDiS - Telephone cradle recover-flashing
MoTelDiS - logging
NAG - Adaptation data
NAG - EEPROM values
NAG - Kueb lockup
OBL22kW - Vehicle-Homepage update
Offline activation
Powertrain Gateway - Extended
Powertrain Gateway - Force flashing
RWTS - Desensitize tailgate closure S211
SAMF - Chassis
SAMF - Interior light function
SAMF - Outdoor light function
SAMR - EDW-Alarm
SAR - System information
SGR - System information
Seats - Special settings
Stationary heater/STH - Special settings
TGW4 - HU internal logfile creations
TGW4 - Video-AUX activation for special protection vehicles
TP - FleetBoard support
TP5 - TP5 Bras default settings
TSG - Adjustment of window lifters 212
mbrace - Current VIN writing for ECU
mbrace - Login details for cellular network


Notes:
When you become our customer by purchasing this calculator, you gain access to ALL our free services + updates free of charge!
WARNING!:

- You are NOT allowed to run a webserver at the workstation where this application is running.
- You are NOT allowed to provide codes to third-party without our knowledge (such as on forums or commercial purposes), otherwise the license will be locked without notify and any refund.
- Sharing of your account details (license, screenshots etc.) and/or any part of this software are violation of our rules. In such cases the license will be locked without notify and any refund.
- There is no calculation limit, however calculation of codes for "test purposes", analysis of algorithms and/or crack/hack attempt(s) may also force us to lock of your license without notify and any refund.
- By purchasing a license you will accept our Term of use, Conditions and agreement.
- NO REFUND, USE AT OWN RISK

Terms and Conditions
The author and/or (re)seller reserves the right not to be responsible for the topicality, correctness, completeness or quality of the information provided.

Liability claims regarding damage caused by the use of any information provided, including any kind of information which is incomplete or incorrect, will therefore be rejected. All offers are not-binding and without obligation.


*Rules:
- Don't share your account information
- Don't flood the server with heavy requests
- Don't provide PIN / KEY codes to third-party (forums/internet/etc..)
or else your account get locked and NO REFUND!

** Software requires internet connection for license checking (anti crack protection).
- WARNING: Don't share your license information or else your license get locked and NO REFUND!

*** To avoid abuse we decide to allow special function for the current day only (server time).
- Maybe we'll change it in the future after we make our calculator more secure with advanced anti cracking techniques.