New Nissan / Infiniti BCM & IMMU to PIN Code Calculator 4.0 (UNLIMITED TOKENS & NO DONGLE NEEDED!!!)* **
Unlimited BCM & IMMU to PIN 2006-2012+ (OLD+NEW)!
NO HWID LOCK (NO PC LOCK)! YOU CAN RUN IT ON YOUR MULTIPLE SYSTEMS!
You can calculate immobilizer code by encrypted code from BCM (and IMMU) label - 5 digit code
BEST
BCM (Body Control Module) to PIN CALCULATOR!
FAST CALCULATION!
Get your PIN within 6 seconds.
Six Reasons to buy/purchase:
#1 Cheapest!
SAVE MONEY.
#2 No token limited!
UNLIMITED CALCULATIONS
#3 Easy-to-Use!
1). Just run the software , 2). Enter BCM code , 3) Press "Calculate" button
#4 No Dongle Required!
#5 No Shipping
, JUST A DOWNLOAD LINK (small size)! SAVE TIME!
#6 Also works for 2009 and newer models
Demonstration Video (youtube):
https://www.youtube.com/watch?v=QAIOuBGph-c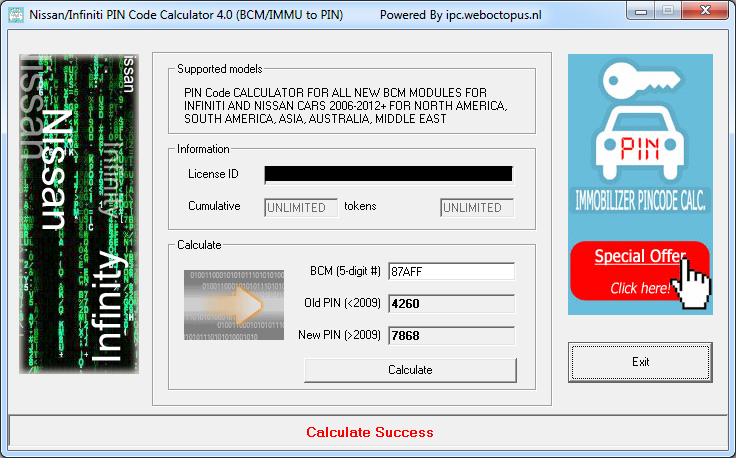 Notes: BCM/IMMU to PIN Calculations are only For North & South America, Asia, Australia, Middle East cars.
Supported and tested BCM part numbers are:
284B1-XXXXX and 284B2-XXXXX
For EU cars you can use our free services:
CLICK HERE (PIN CODE CALCULATOR BY SEC AND ICU LABELS)
. If you are living in EU, this calculator is useful for import cars.
When you become our customer by purchasing this calculator, you gain access to ALL our free services + updates free of charge!



*Rules:
- Don't share your account information
- Don't flood the server with heavy requests
- Don't provide PIN / KEY codes to third-party (forums/internet/etc..)
or else your account get locked and NO REFUND!

** Software requires internet connection for license checking (anti crack protection).
- WARNING: Don't share your license information or else your license get locked and NO REFUND!