Carrier (Maxima) Moto Hours (Time) Repair/(Ex)Changer 1.0 (NO TOKENS & NO DONGLE NEEDED!!!)* **
NO HWID LOCK (NO PC LOCK)! YOU CAN RUN IT ON YOUR MULTIPLE SYSTEMS!
Best & Cheapest tool to repair / adapt / (Ex)change Carrier Maxima MotoHours!
Benefits:
- It can help you to
repair (change: adapt) moto hours
in Carier (Maxima) for transport/truck/ trailer/container air-conditioning/refrigeration.
- It should work for Carrier Maxima and Carrier Supra Logicboards with EEPROM 93C46.
- It has
NO expiration period
, internet access is REQUIRED (because of anti-crack&piracy protection) and its TOKEN FREE (
use it forever!
).
For security reasons (Fair Use Policy / Acceptable Use [Anti-Abuse] Policy) users are not allowed to decode/modify moto hours from dump more than 5x per day. This is well enough to repair at least 5 transport refrigerators.
Demonstration Video (youtube):
https://www.youtube.com/watch?v=cOPW4P7E0XY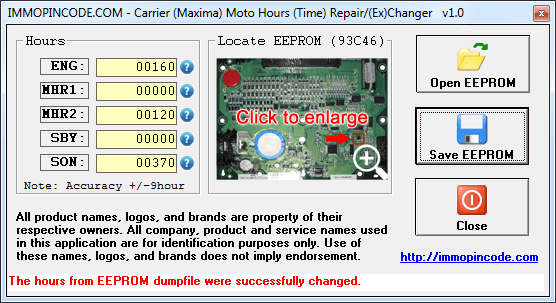 HOW-TO adapt a donor (replacement) logicboard (ECU) - Exchanging Moto hours:
1. Locate EEPROM (93C46) at Logicboard (ECU).
2. Read EEPROM using an universal programmer and save the result (dump).
3. Load EEPROM dump file to software using button "Open EEPROM" (it will decode ENG-, SBY-, MHR1-, MHR2- and SON moto hours**** which is visible in your dashboard).
4. Change moto hours (to the original value which is shown in your original dashboard).
5. Save repaired file with correct moto hours using button "Save EEPROM".
6. Write repaired file to donor logicboard.
****
CD2 / ENG - Engine Hours
CD11 / SBY - Standby Hours
CD18 / MHR1 - Maintenance Hour Meter 1
CD19 / MHR2 - Maintenance Hour Meter 2
CD20 / SON - Switch On Hour Meter
IMPORTANT: THIS IS NOT AN OFFICIAL SOFTWARE OF CARRIER NOR A PART OF IT!
All product names, logos, and brands are property of their respective owners. All company, product and service names used in the application and this webpage are for identification purposes only. Use of these names, logos, and brands does not imply endorsement.


USE AT YOUR OWN RISK - NO GUARANTEES.
Always make sure to backup your original files before overwriting!
It could be that changing moto hours is against the local laws (illegal) in your country. Do a research before using this software!
*Rules:
- Don't share your account information
- Don't flood the server with heavy requests
- Don't provide PIN / KEY codes to third-party (forums/internet/etc..)
or else your account get locked and NO REFUND!

** Software requires internet connection for license checking (anti crack protection).
- WARNING: Don't share your license information or else your license get locked and NO REFUND!