Didn't received your tokens? (CLICK HERE)
FAQ (Frequently Asked Questions) - CLICK HERE
IMPORTANT NOTE 13-01-2018
Attention to @live, @outlook, @msn and/or @hotmail account users. Be sure our e-mail ( ipc@weboctopus.nl ) is whitelisted! Duo recently changed Services Agreement of Outlook, Microsoft is blocking some of our SMTP IP-addresses. Our provider is trying to solve this problem with Microsoft.
We apologize for the inconvenience. In case you didn't receive your tokens/calculator, please contact us by e-mail ipc@weboctopus.nl so we can send it by e-mail from our temporary Gmail e-mailaddress.
TWO NEW SPECIAL OFFERS + FREE GIFTS!
1. UNLIMITED Pincode by VIN / SERIAL (VIN TO PIN), NO TOKEN USAGE!
If you buy 50 Tokens you get unlimited* VIN to PIN Code / Key Code (keycut) calculations for FREE (LIFE-TIME / "FOR EVER"**) - NO TOKEN USAGE!
Normaly a VIN to PIN calculation charges one token.
2. FREE LICENSE (AS GIFT) IF YOU BUY 10 TOKENS OR MORE: FREE EDC17/MED17/MEV17 VIRGINIZER (RECODER) + BONUS: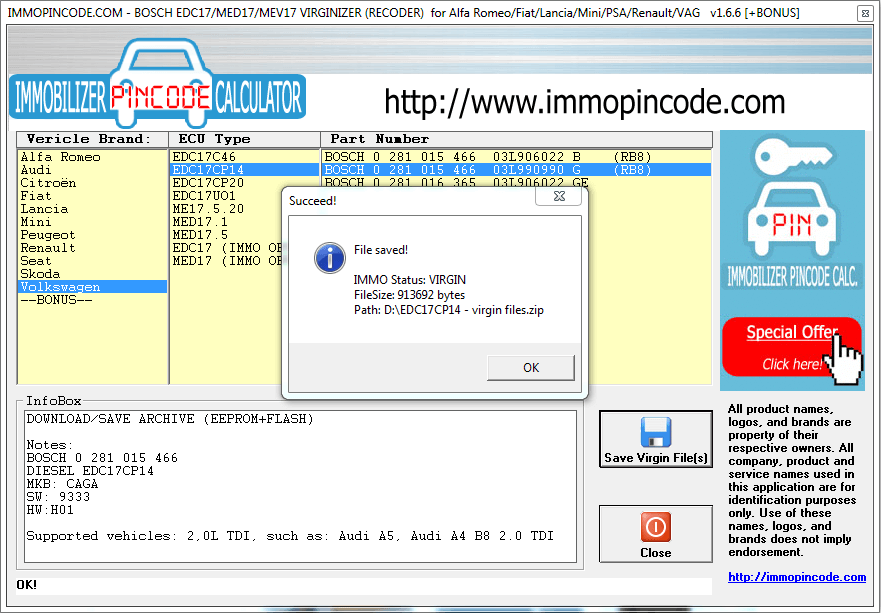 Direct download link: CLICK HERE (SOFTWARE)
IMPORTANT CHANGE:

We tried several times to maintain the KIA & Hyundai VIN to new PIN + keycut code Service, but unfortunately we are compelled to terminate/stop the KIA & Hyundai VIN to new PIN + keycut service duo mass abuses. Our servers can't handle the flooding requests and will crash within some seconds duo overloading.

The old PIN for KIA & Hyundai (before 03/2007) is still available. Thats why we will expand our services (add new services)!

*Rules:
- Don't share your account information
- Don't flood the server with heavy requests
- Don't provide PIN / KEY codes to third-party (forums/internet/etc..)
or else your account get locked and NO REFUND!

Fair Use Policy / Acceptable Use (Anti-Abuse) Policy
We are compelled to limit the daily "FREE GIFT (UNLIMITED)" VIN/SERIAL to PIN calculations to 5 calculations per 1 day, in order to prevent the service from being (temporarily or permanently) unavailable AND for reducing server errors through many calculation requests. The limit is well enough to serve several workshops for one day. In emergency cases you can use your tokens for calculations.

** LIFE TIME means valid until the VIN to PIN service stops.
---
SCAM BLACKLIST - Scammerlist - Scammer & Cheater alert - SCAM WATCH!
Fraudster Name / Lastname:
Jonatan Da Silva Martins
Email address:
tock.robert@yahoo.com
Reason:
It is a
known scammer
! As usual scammers -> unfair "Chargeback" dispute!
Be careful if you purchase a vehicle with VIN:
2T3YF4DVXCW106633
2T1BU4EE0DC062602
2T1BURHE3EC099539
Fraudster Name / Lastname:
Tom Semik
Email address:
t.semik1@gmail.com
Reason:
he scammed us for 40 euro and abused our free gifts
Fraudster Name / Lastname:
Alizé Sécurité
Email address:
alizesec@free.fr
Reason:
refund fraud
Fraudster Name / Lastname:
Dmitriy Alekseyev
Email address:
dimkausa@gmail.com
Reason:
he scammed us for 25 euro. This fraudster abused paypal refund system.
Fraudster Name / Lastname:
Osvaldo Audano
Email address:
audanoosvaldo@gmail.com
Reason:
this fraudster has abused his credit card company for unfair refund, he abused free services, free licenses and 10 tokens.
Fraudster Name / Lastname:
RASHEED MCRAE
Email address:
fortyseven69@gmail.com
Reason:
RASHEED scammed us and abused paypal refund system to rip us for a small amount of money.